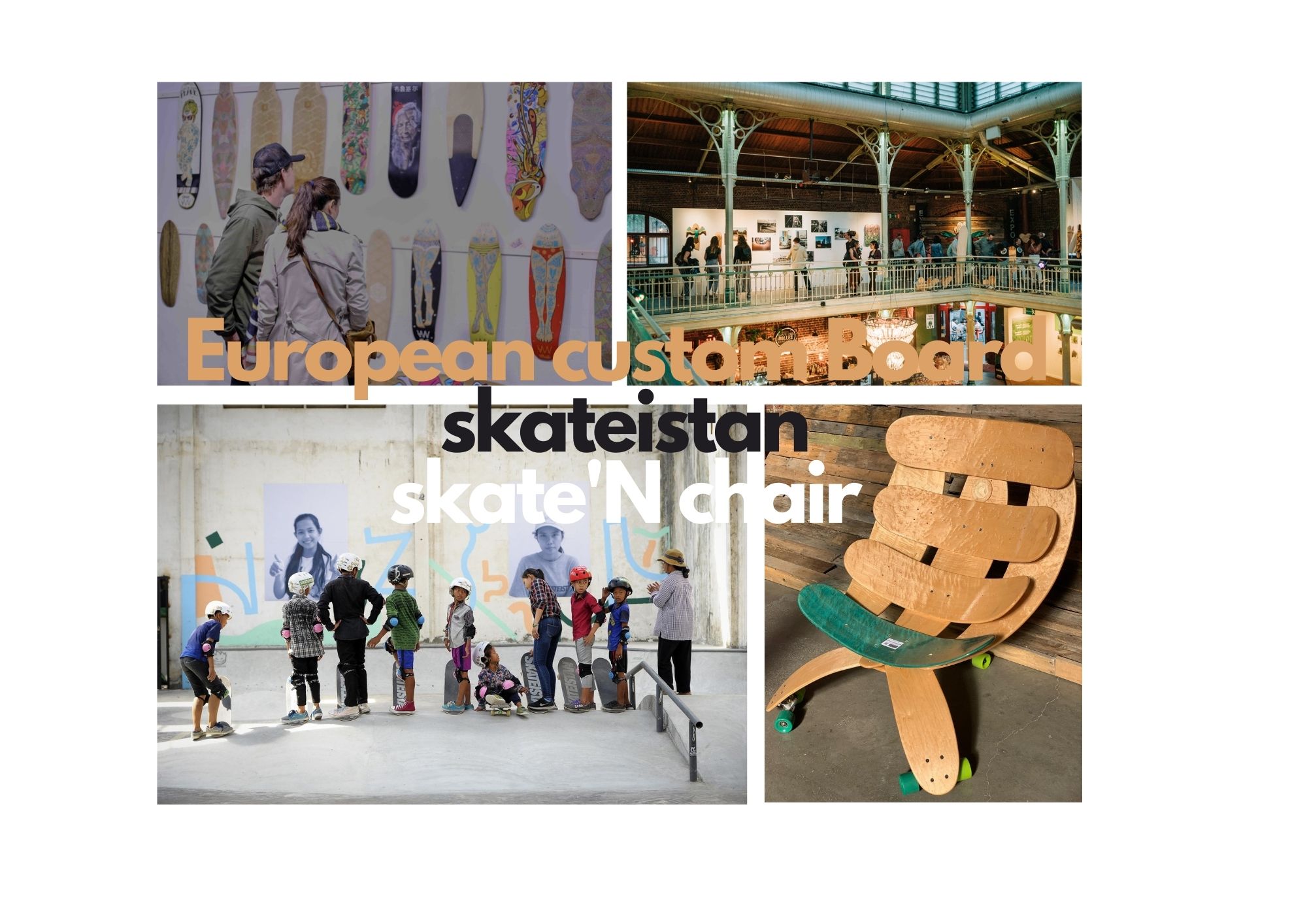 The European Custom Board Collective Show event :
The European Custom Show event is a unique concept. Originally founded by the Chalk Custom Board Project collective and now with Roarockit Skateboard Europe as a partner of the event, this collective exhibition aims to bring together and showcase Europe's most talented custom board artists
The first edition of the European Custom Board Show was born in Brussels in 2017 in partnership with the gallery The Art Project.
More than 20 European artists have been carefully selected to participate. Each of them exhibited up to 3 skates, cruisers or longboards, customized by hand. All unique pieces.
For this exhibit the Roarockit team made a hand-curved longboard board, which was then customized by member artist and Chalk creator, Mata7ik.
This board can be seen here or above.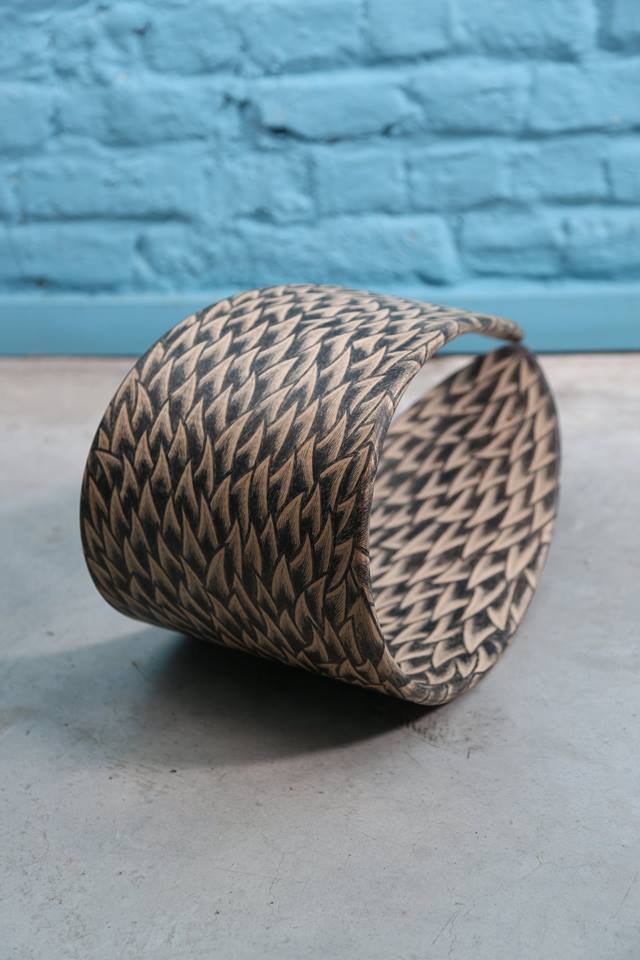 Here are some photos of the event
 
The second edition of the European Custom Show took place in Darwin from June 5 to 26, 2019. In one of the cult places of urban culture in Bordeaux, experimental and artistic in the ultra-wide sense of the term.
More than 70 artists were present and no less than 240 custom boards were exhibited.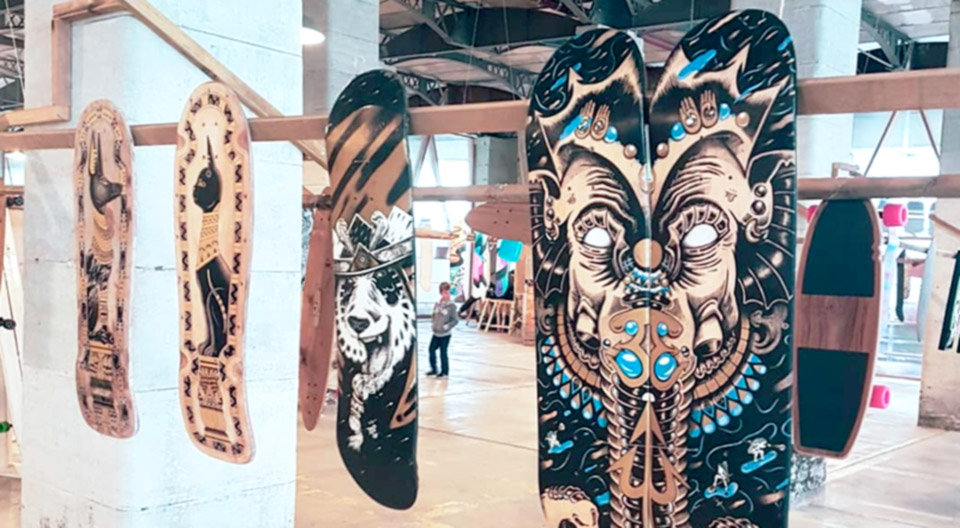 You can find the video presentation right here.
The 3rd edition was born in Brussels in an iconic building: the Halles Saint Gery. This year from July 2 to September 7, 2020, the exhibition welcomed no less than 50 artists from all over Europe and from a wide variety of backgrounds: tattooing, architecture, painting, graffiti, sculpture, graphics …
Over 150 custom boards were presented for the occasion.
For this occasion and because it is more important to us than ever, we made a piece, all of the profits from which will be donated to the NGO Skateistan (more details below).
In view of the circumstances and due to the security measures due to COVID-19 and their constant evolution, the exhibition is also available online on the European Custom Board Show website, making the virtual exhibition accessible to everyone.

It was a real pleasure to be a partner of this event once again. A success and an unforgettable moment of meeting and sharing!

Skate'N Chair :
The Skate N' Chair is a project made by Roarockit Skateboard Europe in order to raise funds for NGO Skateistan.
This handmade chair takes its name from its design : 10 curved and assembled skateboards decks whose flexibility provides a natural rocking sensation, similar to that we can find when sitting in a traditional rocking chair.
In detail, this chair is composed of 4 street decks, 3 pintail longboards and 3 mini-cruisers for a total of 70 sheets of Canadian maple wood. Each top sheet of these boards has been selected for their wavy and birds eye effects. The rarity and aesthetics of these maple sheets add a unique side to this chair.
It took a little over a month to complete this project. The pressing of the boards required a particular technique to obtain these curves. An ultra-resistant glossy varnish has been chosen to highlight each board providing a velvety impression. Wheel-truck set-ups have been installed on all three legs to accentuate the rocking sensation and also makes this chair easily mobile.
100% of funds raised by the sale of this piece will be donated to SKATEISTAN.
Design and production: Sarah Jackson & Nicolas Alix
Varnish: Alexandre Marin.
You can buy this chair directly on the button below, and on the Roarockit Skateboard Europe website.
Skateistan :
Skateistan is a non-governmental organization, which empowers children through skateboarding and education in Afghanistan, Cambodia and South Africa.
By combining skateboarding with a creative and artistic education, they give children the opportunity to become leaders for a better world. They focus on groups that are often excluded from sports and educational activities, especially girls, children with disabilities and those from low-income backgrounds.
They provide safe spaces where children can have fun, build skills and confidence, and break down social barriers by making new friends.

In the words of its founders, it is about: "creating a better future for these young people and their communities, through innovative programs that aim to develop the experiences and skills of each of them".

If like us you want to support this NGO, you can directly donate by clicking on the button below or buy the chair that we have made.
We would like to thank Chalk Custom Board Project and all the artists for creating and making the European Custom Board Show what it is today! A amazing experience, a moment of sharing and new encounters, art, talent and much much more.
May the stoke continue! 🙂