This month's shaper has kindly written his story in Italian and in English, so pick your language and enjoy!
Fabio Brambilla – a talented Italian skateboard builder, with a passion for skateboarding and custom decks, has recently launched his own brand: Broken Board Design! Read on to find out more…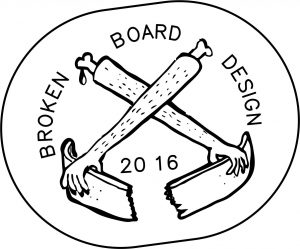 A little personnal introduction…
My name is Fabio Brambilla, I live in Como, Lake Como lovely place … I am 40 years old but did not hear them, for the moment.
My work is the furniture designer, I work in a large company, and I have a passion for … Skateboard passion for punk and electronic music, a background as an illustrator and designer tshirt, pins and stickers as well as paying video experimental … in short, a small local artist.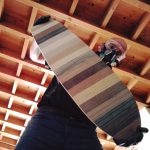 1) YOU RECENTLY STARTED BUILDING BOARDS…
It 's always been my desire since I was a kid and I practiced Skateboard … to create a custom skate, and now I can do it!

2) YOU HAVE NOW LAUNCHED YOUR OWN BROKEN BOARD DESIGN….
Broken Board Design wants to be a brand dedicated to street-style, contemporary, dynamic, creative brand that keep holds skate and design !
3) WHY DID YOU CHOOSE THE NAME  "BROKEN BOARD DESIGN"…
Why not ! I liked Having an "rude" logo and rough, near the punk spirit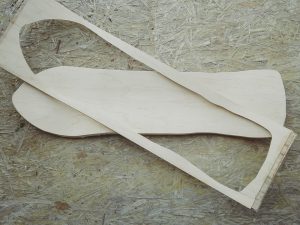 Skateboarding, but at the time same ironic and irreverent.
Break a skateboard was a moment to celebrate.
But above all I reuse waste of veneer furniture Processing
And furniture, to give him a second chance … A Second Life!

4) YOU USE OUR ROAROCKIT TECHNOLOGY…
For my work I have heard and seen the machines that bend the plywood with the technology of vacuum … and so in a restless night I searched the internet a similar method. and I found the "Canadian doctor" that explained and showed the ROAROCKIT TECHNOLOGY … et voilà
5) WHAT WOULD YOU SAY YOUR FAVORITE TYPE OF DECK IS…
After a period of tests and tests with various forms I am now concentrating production
SURF SKATE models of style and old school. These are the models that we reflect to me
more and who marry better with my design and the veneer to broken pieces
6) ANY FUTURE PROJECTS….
In the future I see other projects not only for skateboards … I want to get hold of the technology
and implement small design objects … the limit will be my fantasy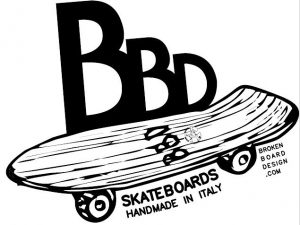 7) ANY COMMENTS, SPECIAL THANKS…
My inspiration it's my job as a designer and especially playing with my son Lorenzo 4 years and have stimuli with his unstoppable creativity … he's a little ruscal !
I would like to thank all those who in this period were close to me and they really encouraged me and supported and who believe in this strange project … thank you very much!
– > a special thanks to the "Canadian Doc"

You can find and buy all of Broken Board Design Skateboards on their website 
Like and follow their page on facebook