This month's shaper has kindly written his story in Italian and in English, so pick your language and enjoy!
Fabio Brambilla – a talented Italian skateboard builder, with a passion for skateboarding and custom decks, has recently launched his own brand: Broken Board Design! Read on to find out more…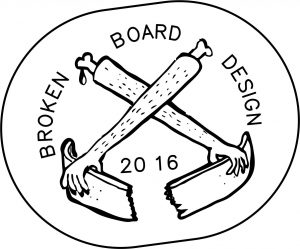 A little personnal introduction…
Mi chiamo Fabio Brambilla vivo a Como, incantevole luogo lago di Como…ho 40 anni ma non li sento, per il momento.
Il mio lavoro è il designer di arredamenti, lavoro in una grossa azienda ed ho la passione per lo Skateboard…la passione per la musica punk ed elettronica, un background da illustratore e disegnatore di tshirt, pins ed adesivi oltre che aver fatto video sperimentali …insomma un piccolo artista locale.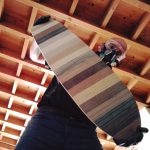 1) YOU RECENTLY STARTED BUILDING BOARDS…
E' sempre stato un mio desiderio da quando ero ragazzino e praticavo Skateboard…quello di realizzare un skate personalizzato, ed ora io posso farlo !

2) YOU HAVE NOW LAUNCHED YOUR OWN BROKEN BOARD DESIGN….
Broken Board Design vuole essere un brand dedicato allo street-style, contemporaneo, dinamico, creativo un brand che tiene unito skate e design…perchè no !
3) WHY DID YOU CHOOSE THE NAME  « BROKEN BOARD DESIGN »…

Why not ! Mi piaceva avere un logo « ignorante » e grezzo vicino allo spirito punk
dello skateboard, ma al tempo stesso ironico ed irriverente. Inoltre nell'ambiente
skateboarding spezzare una tavola era sinonimo di essere possenti e di andare
molto bene con lo skate…un momento da celebrare.
Ma soprattutto io riutilizzo degli scarti di lavorazione dell'impiallacciatura di mobili
ed arredi, per dargli una seconda chance…una seconda vita !

4) YOU USE OUR ROAROCKIT TECHNOLOGY…
Per il mio lavoro ho sentito e visto delle macchine che piegano il multistrato con la tecnologia del sottovuoto…e così in una notte agitata ho cercato su internet un metodo analogo. ed ho trovato il « dottore canadese » che spiegava e mostrava il ROAROCKIT TECHNOLOGY …et voilà
5) WHAT WOULD YOU SAY YOUR FAVORITE TYPE OF DECK IS…
Dopo un periodo di prove e test con varie forme ora sto concentrando la produzione
su modelli in stile SURF SKATE ed old school. Questi sono i modelli che mi rispecchiamo
maggiormente e che si sposano meglio con il mio design e con l'impiallacciatura a pezzi rotti
6) ANY FUTURE PROJECTS….
el futuro vedo altri progetti non solo per gli skateboards…voglio impadronirmi della tecnologia
e realizzare dei piccoli oggetti di design…il limite sarà la mia fantasia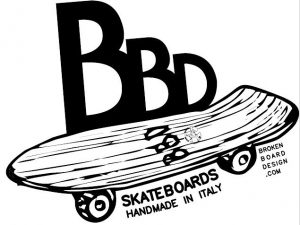 7) ANY COMMENTS, SPECIAL THANKS…
la mia ispirazione, è il mio lavoro da designer e soprattutto giocare con mio figlio Lorenzo di 4 anni e ricevere stimoli con la sua iarrestabile creativià …lui è un piccola peste !
Vorrei ringraziare tutti quelli che in questo periodo mi sono stati vicini e mi hanno realmente stimolato e supportato e che credono in questo strano progetto…grazie davvero !

You can find and buy all of Broken Board Design Skateboards on their website 
Like and follow their page on facebook