Building sessions
At our Bordeaux location we are proud to offer workshops so that you can custom build the skateboard you have always dreamed of.
These sessions are great for people who have never built a board before, don't have a workshop at home, or who want to refresh their builder's skills.
A Dream Build session is for those who want to design and build an advanced board under the instruction of an expert.
Any way you do it, it's a fool-proof way to build your own board and learn valuable tips and tricks along the way.
.
---
Details :
Options for board styles are:
Lil'Rockit
Street Deck
Pintail
Drop Deck
Dream Build
Prices include the materials, (veneer and glue) use of tools, molds and vacuum bags.
Must be 13 or older (exceptions can be made)
It's also possible, if you want to come and learn how to shape a foam mold or change your sealling tape. We can adapte the sessions to meet your needs. Just ask us!
Wheels, trucks, grip tape and graphics are not included
---
Cost for Pre-shaped Build:
Lil'Rockit : 150€
Street Deck : 170€
Pintail : 190€
Cost for Custom Build:
Drop Deck : 220€
Cost for Design and Custom Build:
Dream Build : 290€
---
Times & Location
Workshops can be arranged for either 2 x 3-hour sessions, or 3 x 2-hours, for a total of 6 hours.
Bookable Session Times: 2 pm – 5 pm
Tuesdays, Wednesdays and Thursdays
Times are all set by appointment and are usually one-on-one for a truly custom building experience.
Location: Most one-on-one sessions happen at the warehouse location,Roarockit Skateboard Europe, 23 rue du 503e régiment, 33127 Martignas-sur-jalles.
Next group session: TBC
Sign up now to book a place in the next Skateboard Building Group Session.
You can call us, email us or text us on facebook, don't be shy and come create your own skateboard.
Facebook event page for next workshop.
---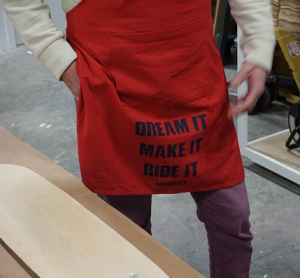 Notes:
Clothing: Please wear work clothes for each session. Although the glue and finish we use are water-based, they do not come out of fabrics (clothing and shoes included).
Sanding generates sawdust and some airborne dust particles, we do provide dust filter masks if required.
Allergies: Please let us know if you, or your registrant, have any special concerns or allergies.
Safety: if your finished skateboard will have hardware attached to it and be ridden on, make sure you wear appropriate safety gear! Roarockit promotes the wearing of an approved helmet AT ALL TIMES. Skate safely and within your abilities!