1- Can you introduce yourself? What do you do for a living?
My name is Enji Wadel and I am 44 years old. I am currently in " reconversion " as they say. Circassian acrobat since I was a kid, I rolled my hump a little bit everywhere with our circus " La Compagnie Le Filet d'Air " created with Isa my wife in 1999.

Funambulist, tent erector, Gypsy jazz musician, mechanic sometimes, this job allowed me to touch a little bit of everything and especially to develop the sense of " bidouille " when there is a problem…
The show must go on !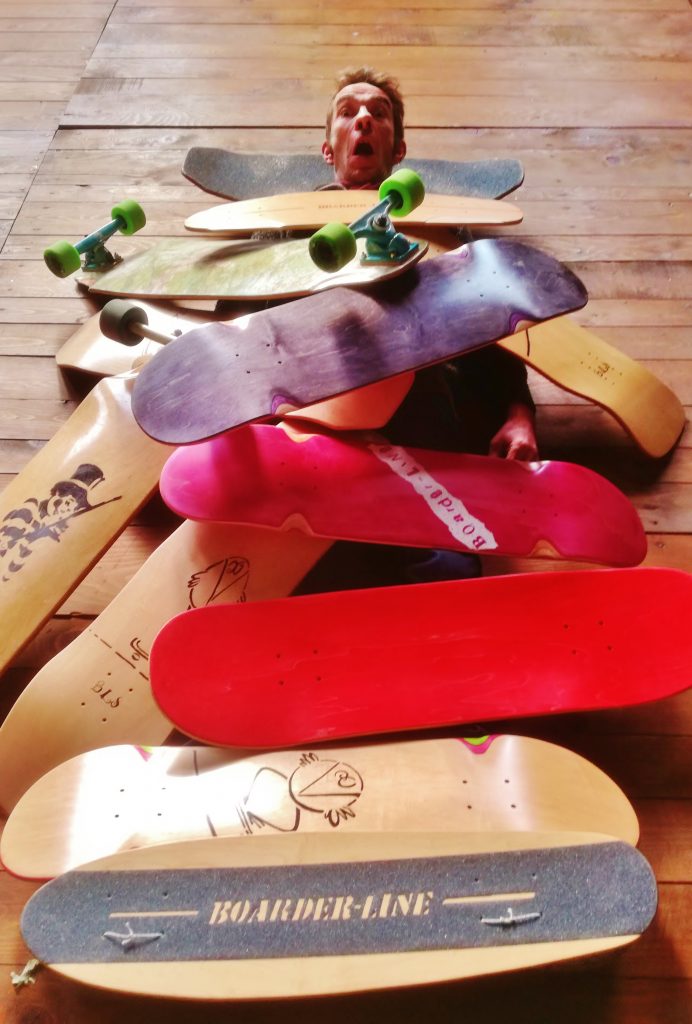 2- When did you start making skateboards?
Mino I was a real daredevil, everything went bmx, rollerblading, skateboarding…
As long as there was big slope, I was up for it !

Then time passed and it was through the wire that I channeled that need for adrenaline.

Living in the Alps and tired of the increasingly short snow seasons, we started longboarding with my son Nino.

One thing leading to another, we started to tinker with boards, to recover some, to cut CP to test different Shapes ….
It was gone, we were taken by the passion of skate !
3- How did you learn to make a skateboard?
It was meeting two years ago with Christophe Stagnetto of Made in Alpes Skateboard that was a revelation for me.
I hosted him as a stage manager on the festival Festi'Street organized by our Trièves teens and Christophe was demoing Shape with Made in Alpes.
We spent the day chatting about skateboarding, he showed me the TAP, took the time to explain everything.
Three weeks later, I had my first kit Bambora series from Roarockit.
I've never taken an internship or anything, I'm observant and mostly a stubborn !
I search a lot, I make mistakes, beautiful discoveries and little by little I find myself making more and more boards of better quality…. It's progressing continuously, just don't let go !
4- What do you make them with?
This happens in three steps:
1 – Designing a prototype with the TAP technique and polystyrene mold.
2 – Once the concave and camber are found, make a wooden mold.
3 – Production, using a mechanical flange press, of a micro series of up to 10 boards.
I am currently working on a hydraulic concrete mold press that will see the light of day in early 2021 and should speed up the manufacturing process.
It currently takes about 1 month from design to completion of a new model.
I also make knives that I mount with recycled skateboard pads or better with my wood scraps.
I especially make a derivative model of grafting that I called " The Gripper " a tool that makes it easy to put the grip on and also works great for pizz's during sessions !
5- How does Roarockit help you with his boards?
The TAP is an indispensable tool for making protos easily.
From its simplicity of use, one can quickly modify molds, search for the right shapes, size ect…
I also use the TAP a lot to press different objects I make with wood scraps (insert for knife mounts, guitar picks, wooden games ect…)
There are also tools that make life easier, the little scraper that's good for finishing off round-offs, the rockitruler, drawing rules…
6- What materials do you use?
I use Roarockit's Canadian maple for all my work, which is super quality. It's a real pleasure to work on super clean materials.
I love the color folds and the different shade changes the wood takes on depending on the stages of work ( rough, sanding, varnishing…)
7- What are your future plans?
To get back to roaming by being present on skate-parks, contests, sports events etc… With a Caravane-scene that we used to use for our shows that I'm going to refurbish this winter to make it a Mobile Skateshop.
The idea would be to distribute only boards from Independent Shapers and to have a workshop " dépanne " where the riders could rework the breakage of the day with material recovered here and there.
I'm not sure how to do that.
By the way, if anyone is into this, feel free to contact me, the more the merrier…
8- Where can we find you and buy your boards?
You can find my boards and other skateshop merchandise at " target="_blank" rel="noreferrer noopener"> Grenoble and Atmosphère Gap.
You can of course stop by the workshop if you are in the area.
560 routes des oubérous 26620 Lus La Croix Haute
Then there are social networks @boarder.line.skateboard for Instagram and Boarder Line Skateboard on Facebook.
A website is under construction.
9- You have free card for your last question. (thanks, sayings ….?)
Thanks to Béber for the old Kity, to Bernard for his sanding roller and his advice in woodworking, to the LET workshop and Laurenz for the knives assembly, to phil for the log, to polo for the future site to my neighbors for some illustrations and especially to the Riders who trust me.
A big big up to the family, buddies, and people in my village who support me.
It's amazing to see that when you scratch a little, poke around, take an interest in others, a lot of doors open.
You just have to be patient…