Shaper Of The Month : KARA boards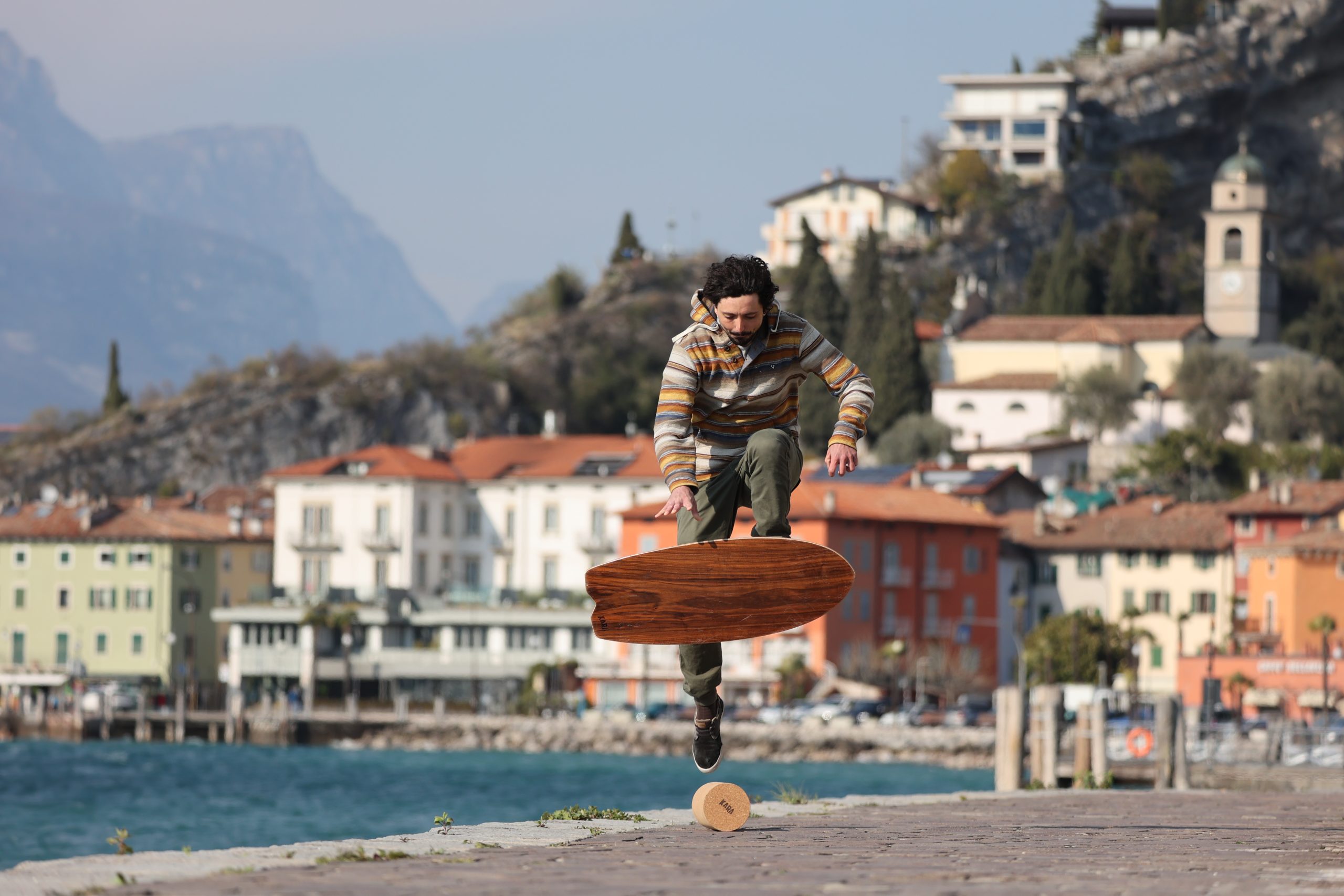 Can you tell us a little about yourself ?
My name is Raul, founder and shaper of KARA Boards. I'm 33 years old and my full time profession is being a mechanical engineer in the automotive industry and fuell cell development. I'm from Bavaria/Germany and I live in a small village called Buchloe, next to Landsberg am Lech, which is very near the Alps and Munich.
When did you start building boards and how did you learn to build ?
My board building journey began back in 2019, right at the beginning of the pandemic. I was feeling the major impact of the pandemic on the automotive industry, because I had a period of short-time work. So, i was on the search for a new hobby to cope with the free time that was being generated.
As a mechanical engineer I had plenty of knowledge concerning the theoretical and engineering background of composites. The challenge was to start building boards with little equipment and without spending plenty of money. Back then in 2019 I was still living in my flat share in Munich and I did not have a workshop. So, I started to make some research, mainly by watching Youtube videos of other board builders. One of the most helpful channels was Chris McCann's Channel called "Good Roads". There I heard of Roarockit for the first time. The vacuum technique of the thin air press was just perfect to start with. I found out that there's also a European branch in France, which made it really easy to order my firstkit.
The first board I shaped was the Old School Cruiser with a larger Thin Air Press, because I was already planning building bigger longboard style boards. I still have this board and still like to ride it. It holds perfectly, even now after 4 years. Same goes for the thin air press. It is still being used.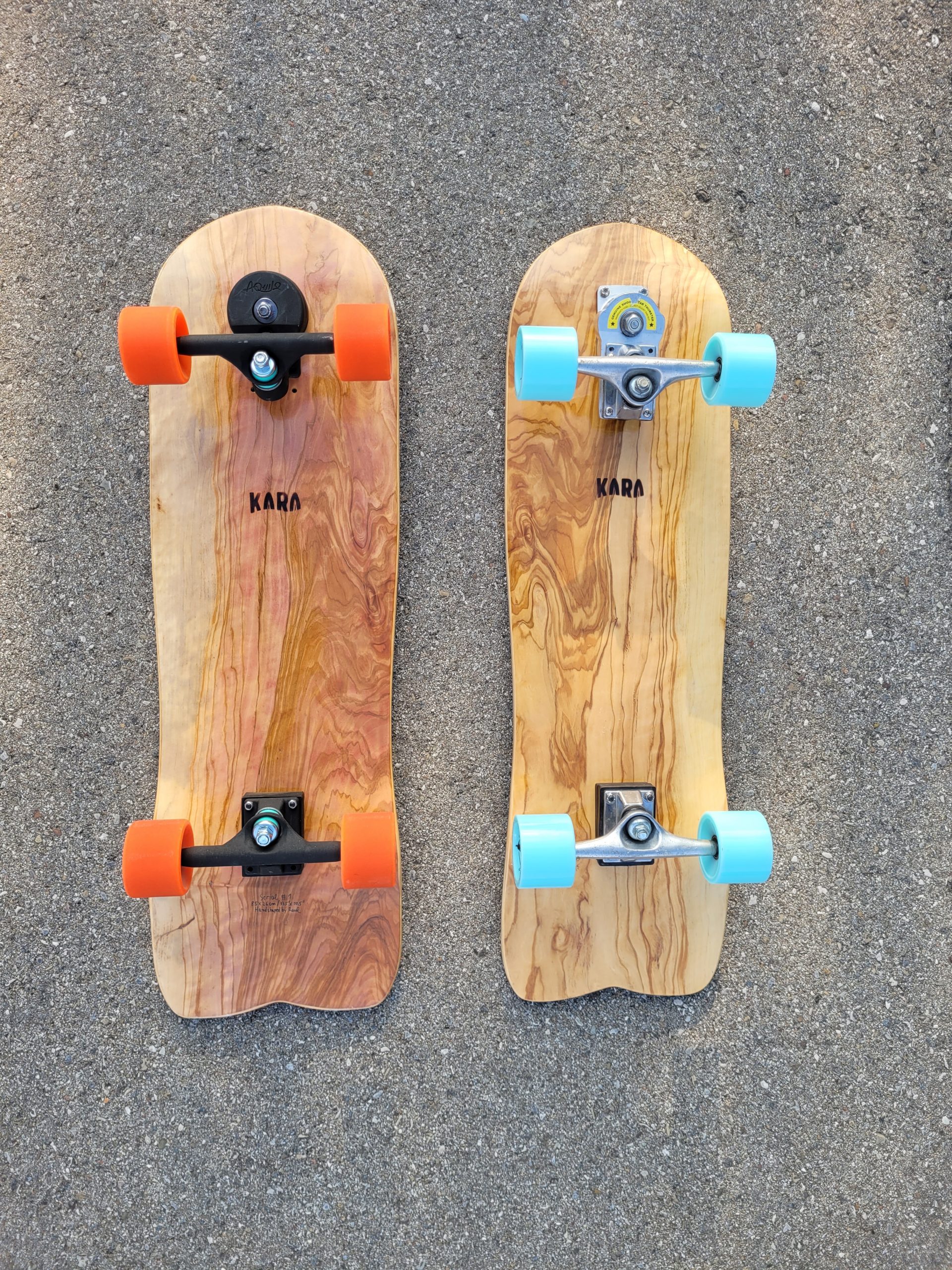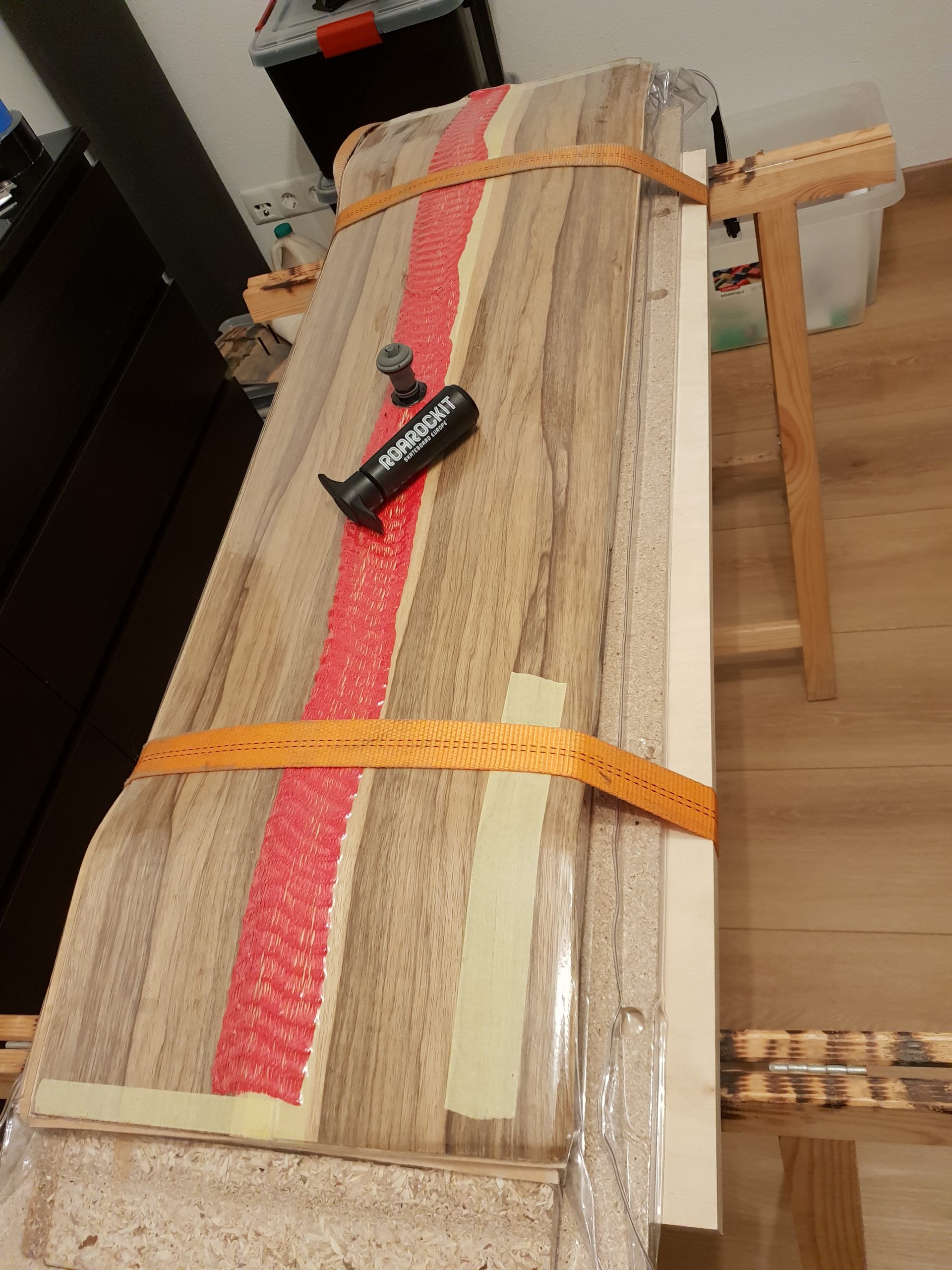 Where did your passion for board building come from / the desire to make it your career
/ one of your jobs?
To understand this, I think it is important to know, that I am an enthusiastic ocean surfer since 2010.
Since Bavaria does not have any ocean, I kind of tried to spend every holiday at coastlines who provide waves, culminating in spending 6 months at the Portuguese west coast in 2017 and 2018.
During lockdown period at the beginning of the pandemic and I was suddenly forced to be a landlocked surfer for a long time. I missed the feeling of being on a board driven by ocean waves so much, that i made the decision to simulate this feeling as good as possible: the idea of building electric skateboards was born. This was also a perfect supplement to my engineering background.
During the process of building all these boards, i discovered that i enjoy the woodworking part of it the very most. So besides i started to build new kind of boards like surfskates, balanceboards or skimboards, trying all kind of different techniques, veneers and looks.
After I gave away or sold my first builds to family and friends, the feedback was so so positive and overwhelming that I thought: "Wow, this is really satisfying!". I love my other full-time profession of being an engineer, but in my case, this also means spending most of the time in front a computer,
designing parts virtually. Having a product in my hands, that has not only been designed by me, but
also shaped with my own hands, and then also be able to ride it, is pure joy.
So, in 2022 I made the decision to establish my own small side company called KARA Boards. In
the beginning i will sell customized surfskates and balanceboards.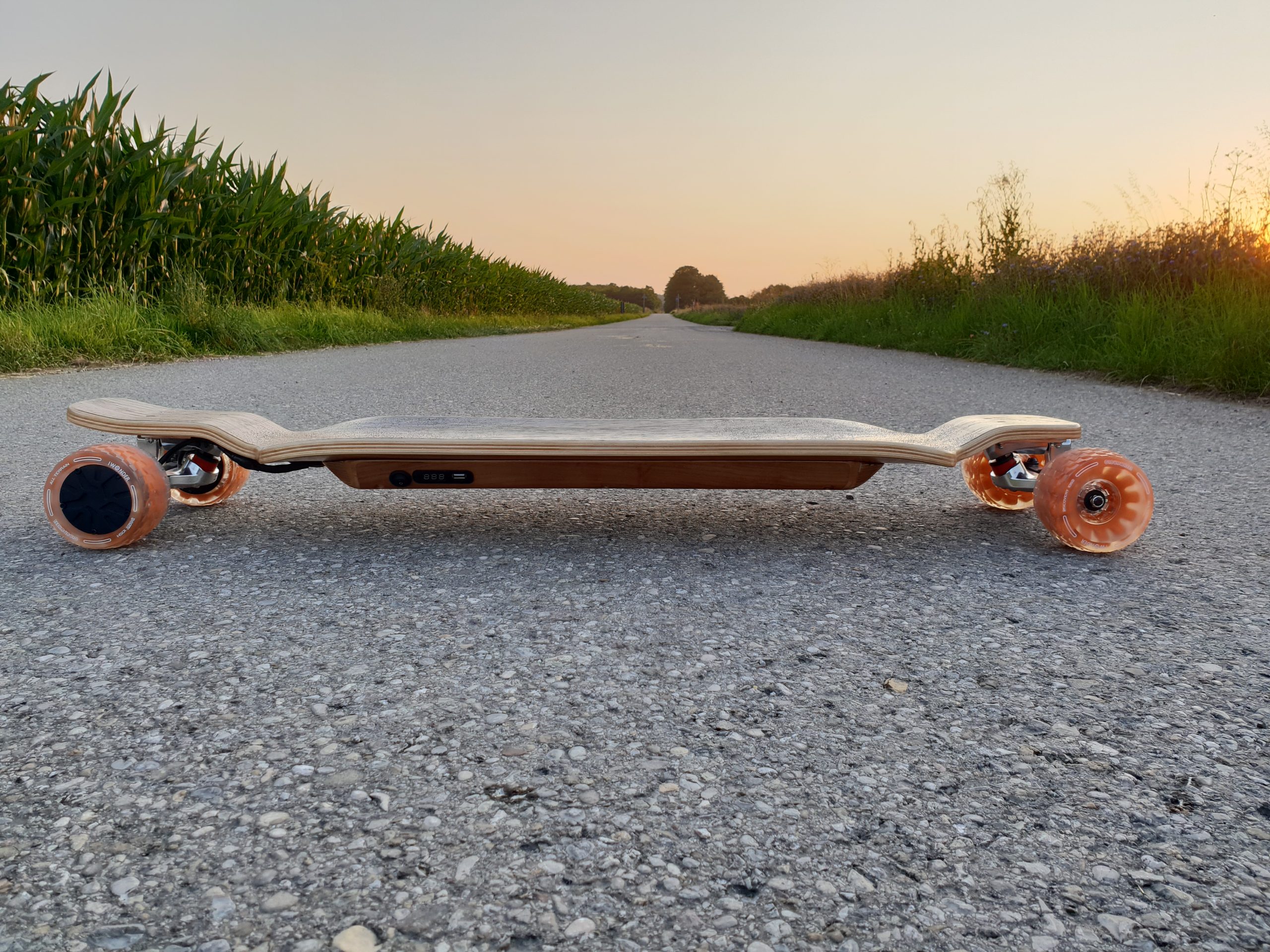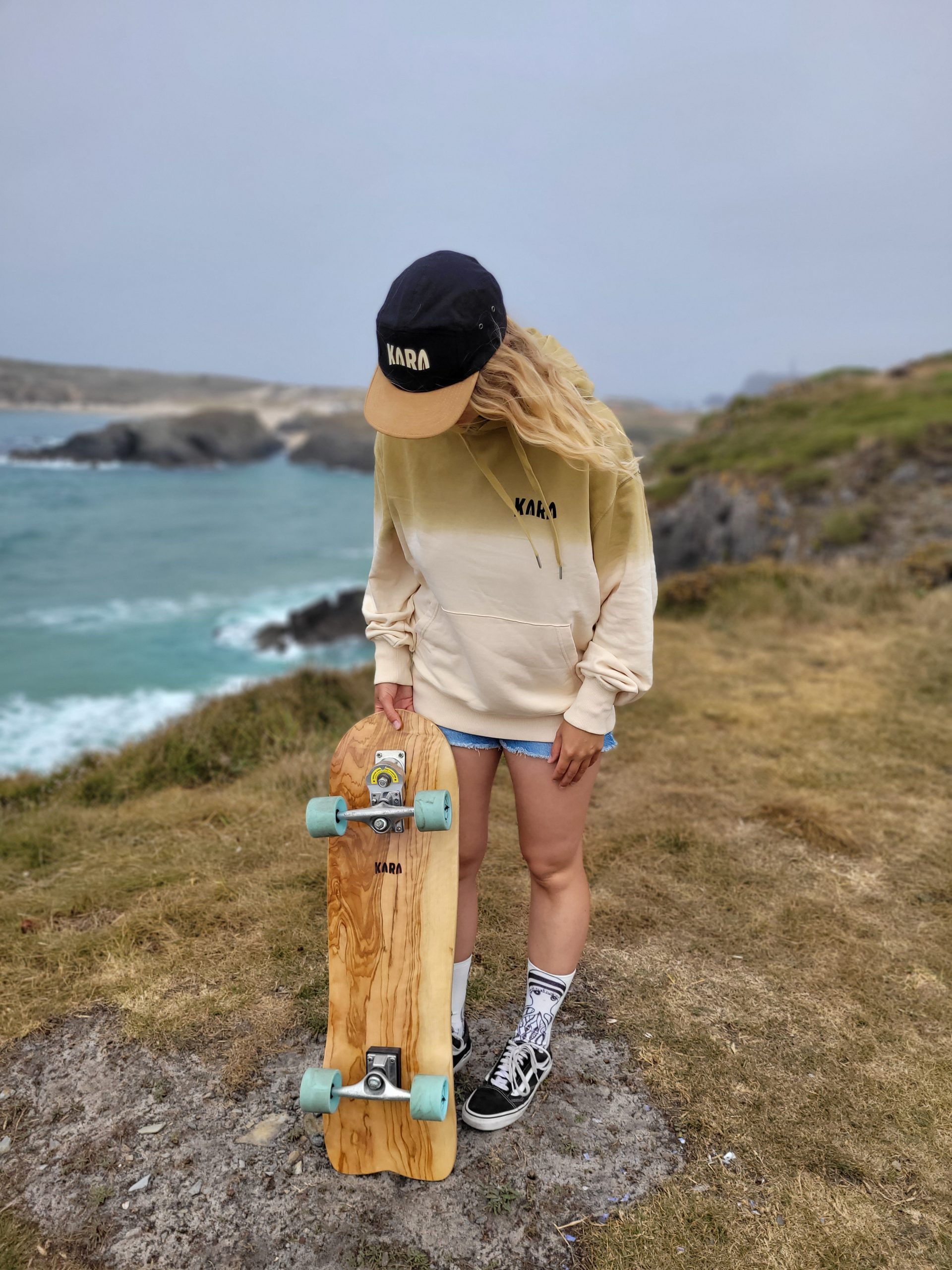 What inspires you ?
I draw my inspirations mainly from our roadtrips with our old campervan, where we (my girlfriend Katha and me, Raul, together KARA) keep expanding our collective interests a lot.
We started to learn new sports like surfskating, longboarding, balance boarding, but also to deal with forces of mother nature like wind, waves and snow on all kind of boards. We surf, skate, surf on rivers, wingfoil, pumpfoil, wingskate, dance on longboards, go hiking, skiing and snowskating as much as possible. We are not professionals at all these things – but we enjoy them a lot. These are the things that make us happy.
All these different experiences helped us a lot to better understand and improve our selfmade boards.
What are the unique features of your boards ?
My boards are unique in many different ways.
First of all, they are all handmade with love and pure passion, no mass production here And like every purely handmade product, every finished item is a bit different and perfectly imperfect, because they are not finished by machines.
Secondly, every customer can choose between different shapes and beautiful natural plain
wood veneers. For example, if a customer wants to put an Apple or Walnut Veneer on top and an Olive or Ash Veneer on the buttom, we are doing that. And since these finishing veneers are made from actual trees there grow naturally, the look of every veneer is a bit different and you can be sure, that your board is one of a kind.
Thirdly, i am using a quite unique wooden layup.
Can you tell us a little bit about the glue you use (type, brands), veneer and varnish ?
Like already mentioned, i developed a quite unique layup. The core is made from long and cross-grained paulownia wood, the type of wood that is mostly used in wooden surfboards. The core is encased by long-grained maple veneers from Roarockit. The outer veneers are chosen by the customer, to match their design wishes. I am purchasing them from local veneer dealers. For the glue i am using Titebond 3. For the finish i am mostly using a biological marine varnish. The grip is transparent to point out the beautiful wood uderneath.
What are the benefits for you ? / Why have you made this choice ?
It was very important for me to make lightweight boards, without the use of harmful composite materials like glass or carbon fiber and epoxy. Yes, they have a lot of functional
benefits, but they are just not good for our environment and for the health of us shapers. I am using the paulownia core because it is very light, water resistant and does not warp. The maple veneers from Roarockit are just perfectly pre-cut in the length i need for the blanks and provide the stiffness needed for surfskates. Titebond 3 is just perfect to hold all these layers together. It is water-based and therefore non-toxic, has a long processing time, easy to apply and not to forget, recognized and tested by thousands of shapers worldwide.
Which Roarockit materials and products do you use ?
I am mainly using your maple veneers and two different thin air presses. I use the vacuum bags to prototype new shapes and to produce very unique shapes for customers.

What are the advantages and practical aspects ?
The advantages of the thin air press technique is quite obvious. There is no need for a big and heavy mechanical press and only one mold is needed. You don't have to cope with the tolerance and alignment issues of a two-sided mold. Also the pressure is spread very evenly. The downsides are, that you always have to check for air leakage and that you can't shape extreme curves. But there are solutions to cope with these issues.
Which are your favorite steps in building a board ?
It has to be making the outcut. After this you can almost see the final product.
Planning new shapes and bringing them into life is also fun.
Which steps according to you need the most attention to detail ?
The shaping of the rails needs quite some love for detail. But i I think you have to be most careful when laminating. It is quite frustrating to have a perfectly shaped, but delaminating board. That's why I'm very focused and fast at the same time. At the end of this step you realize how exhausting this actually is, but also satisfying.

Which techniques and tools do you use for these steps ?
I am firstly milling the rails with a router and then sanding them by hand. For applying the glue during the laminating procedure i am using a glue applicator. It just saves a lot of time and spreads the glue very evenly and quickly.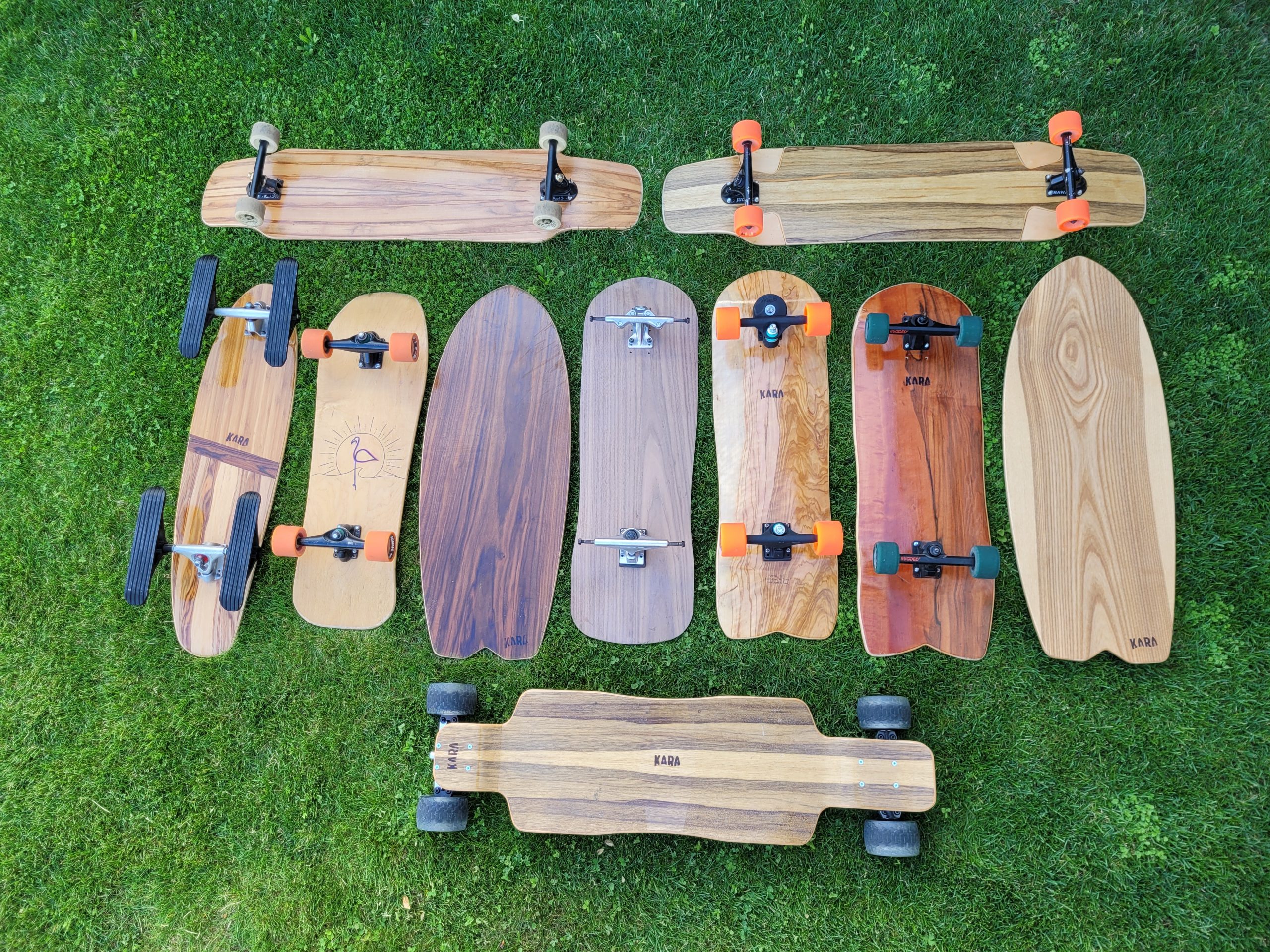 What future projects and creations do you have in store?
Lately i got into foiling a lot. That's why i want to develop a pumpfoil board next. Therefore I purchased a bigger thin air press.
Any pointers / suggestions for those who want to start building boards ?
Don't be afraid of making mistakes. The learning curve is actually steapest when making those mistakes. If a project doesn't come out as expected, try different techniques and find out what works best for you. This process is a lot of fun and satisfying when it finally works
out well.
End comment / acknowledgments / favorite saying / punch line ?
Shape / Ride / Explore. That's what KARA is all about.