The vast majority of leaks that occur when using the Thin Air Press vacuum bag come from the sealing tape on the one open end of the bag. It is important to make sure that the sealing tape itself is free of dirt, glue and debris, and has not been compromised in any way. When you are pressing down the tape to seal the bag, look for any grey areas that indicate the sealing tape is not fully pressed down. You want a nice, uniform black colour running across the whole length of the bag, especially in the corners!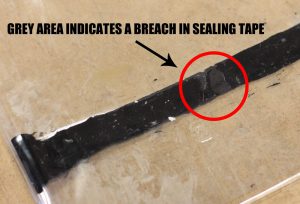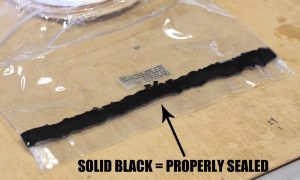 It is always a good idea to use the paper backing strip that comes with the sealing tape anytime you are putting a project in or out of a bag. That being said, it is possible to keep using the tape over and over, even with some imperfections. A little dirt isn't the end of the world, but may be a cause of a small leak in the bag. You can always replace the sealing tape if it is causing an issue.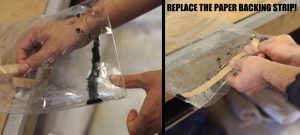 We recommend putting the paper backing strip inside the bag when you are pressing your project as a way to not lose it.

All of our TAP Kits come with extra sealing tape rolls to replace the original one on that comes installed on the bag. If you have used all three of the sealing tape lengths from your original kit, we do sell replacement rolls online. They can be accessed here.