Daniel contacted us a few weeks ago with pictures of his builds and what he was up to! We loved his decks and couldn't resist putting forward his project that has gone from a winter hobby to a passion and small board building line. Give it up to this board builder in Austria!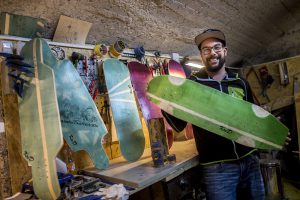 1) So Daniel, can you tell us a little about yourself, where do you come from ? Where do you currently live ? What do you do ?
My name is Daniel Krismer, age 31, since I was born, I live in Kufstein, that's a nice small town in Tirol/Austria. I'm married and proud daddy of 2 lovely kids. I love to ride motorcycles and play guitar. I was skating for fun since I was a little boy, trying new tricks with my friends at the park, now I enjoy more cruising around than doing tricks.
2) We understand you have recently started building skateboards, how did this come about ? Any particular reasons ?
I love to work in my workshop, no matter what to do, to fix something or rebuild an old motorcycle. Last autumn I kept an eye out for a new winter project. With my motorcycle students, I spend a lot of time on the parking lot to do some basic excercises. To get throw the exercises I use a skateboard, a 10 year old 7,5 Minilogo with independent trucks and monster wheels. After a thousand scratches and a realy bad griptape, I decided that it´s time for a new one. I surfed the internet and then ….from Skateshop – to google diy skateboard … and 5 hours later .. I had a new winter project.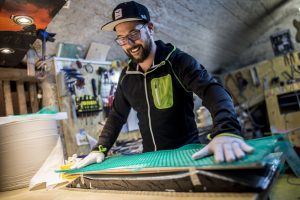 3) You have launched a facebook page for « KriD Strassenbretter » (@skateboards4fun), can you tell us about it and how it is going so far ?
Last November I pressed the first decks, and the results were wow. I´d never thought that I could build a skateboard like that. It´s currently a great hobby, I can do it alongside my family, when my kids go to bed, I go to my workshop. A few month ago I decided to publicise my boards. Therefore facebook is the perfect platform. It's not my goal to earn livelihood, but to create a customized skateboard is really cool, but I cannot use so many boards on my own, so I decided to sell them. The feedback is great and the feedback is motivation to go on.
4) You use the Roarockit  Thin air press to build your decks, how did you come across us and how do you find it so far ?
A friend of mine builds skis and he presses also with a vacuum press. I searched online for vacuum bags and alternatives. After a few hours of reaserch I found your homepage. And the first order was done. I only use your thin air press. I like it to build my own molds and go to the timberdealer to look after the right veneer. Usually I use european maple and ash. Your vacuum bags are amazing. The material is hard-wearing and longlasting. It´s a really great idea to press without an expensive vacuum pump. Thank you for a great product like that.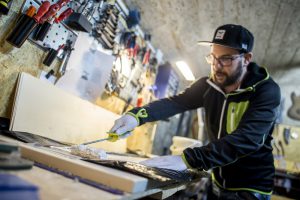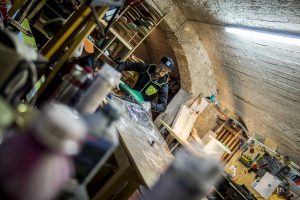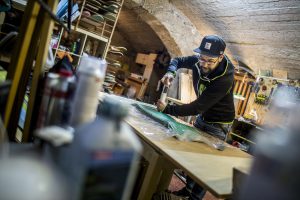 5) Any future projects or plans with « KriD Strassenbretter » (@skateboards4fun) ?
My next project is to get a straight line throw my boards, find my style. I just start out on my sk8boardbuilder career, « lol ». In addition I have another new project : a powder-surfer . Hopefully I can show you the results in the near futur .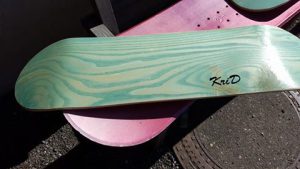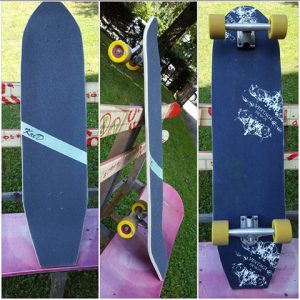 6) Little end note : any favorite saying, special deck or personnal note you would like to add?
It's amazing, how quickly an idea becomes a passion. I hope that I can build many skateboards in the futur.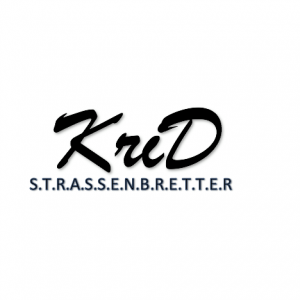 You can checkout, follow and buy KriD Strassenbretter boards on facebook !